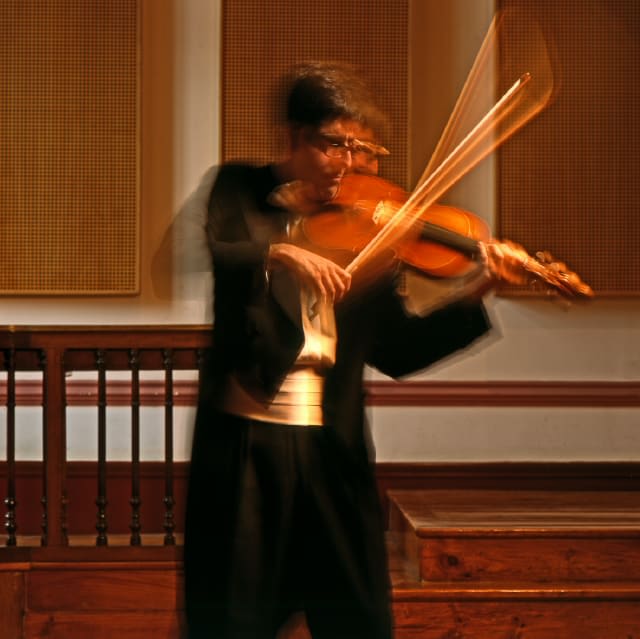 Born in Espinho in 1979. He began his musical studies at the age of eight at the Academy of Music of S. Félix da Marinha in the violin class of Professor Odete Ramos.
At the age of eleven he joined the Professional and Artistic School of Vale do Ave (ARTAVE), where he completed the basic course of string instrumentalist, under the guidance of Professor David Lloyd. During this period of his training he attended the Orquestra Artave with which he toured the main cities of Brazil.
He later joined the Conservatório de Música do Porto to study with Professor Radu Ungureanu.
He was a member of the Orquestra do Norte, Orquestra Filarmonia das Beiras, Orquestra de Câmara de Coimbra, Orquestra Sinfónica da FAP and Orquestra das Raízes Ibéricas, with which he performed several concerts with the most varied conductors throughout the country.
With private lessons, or in master classes worked with Suzana Lidegran, Alberto Gaio Lima, André Gousseu, Dona Lee Croft – Royal College of Music, London, Brodsky Quartet among others.
He performed as a solist with the Artave Orchestra, Orchestra of the Conservatory of Music of Porto, Pedroso Chamber Orchestra, Northern Orchestra and Coimbra Chamber Orchestra.
He won the 3rd prize in the "Prémio Jovens Músicos" competition in the violin class in 1995, the 1st and 3rd prizes in the Internal Competition of the Conservatório de Música do Porto in the Chamber Music class in 1996 and the 1st prize Europaischen Musikfestival Für Die Jugend, Neerpelt.
He was part of the Walter Hidalgo Tango Quartet (2004-2007). He performed at TeCA and TNSJ, with the work "Maria de Buenos Aires" by Astor Piazzolla, 2006.
1st violin of the Aquarelle Quartet, with which he was linked to ESMAE for 4 years in the Chamber Music class, from which he disassociated in August 2004;
Studied with Radu Ungureanu at ESMAE.
Founding member of the Quarteto Douro and Camerata NovNorte.
Concertmaster of the Fundação Orquestra Estúdio - Guimarães 2012 - European Capital of Culture.
He plays a violin copy of Joseph Guarnerius's "Cannon", built by luthier " Eng. Joaquim Domingos Capela – 2000 – in honor of José Francisco dos Santos and Maria Assunção M. F. dos Santos".